Products and Services
I feel that it is important to talk to customers in a relaxed informal way, in their home or office, so that we can share ideas and talk through the different options available.
Whilst in your home or office we would look at different design options, fabric samples, types of lining and coordinating accessories. I would measure your windows for you so that indeed your curtains would be made measure.
Once I have hand and machine stitched your curtains I will deliver and hang them for you. I can also provide a fitting service for poles, tracks and batons for blinds.
Curtains
If you want to start thinking about some of the design options available the pictures on the right show most of the headings for curtains and pelmets.
Roman Blinds
The stylish lines of Roman blinds combine the softness of curtains with the simplicity of blinds. They bring a feeling of sophistication to any room.
Fabrics
I can supply fabrics from the following companies.
Jane Churchill
prestigious textiles
Villa Nova
Please visit their websites to see the vast range of fabrics which are available.
Accessories
Accessories are there to compliment the main focus of the room. They range from cushions, which add comfort, colour and decoration, to headboards, quilts, duvet covers ,bean bags, tea cosies, table runners, door stops, draught excluders, etc, etc….
Styles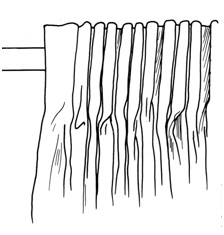 Pencil pleats make an attractive heading to many curtains and can be standard (7.5 cm) or a deeper (15cm) size.
---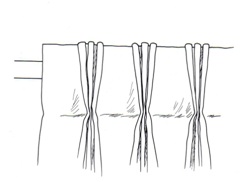 Pinch pleats can be double or triple (as above). They are a beautiful, traditional heading for the top of a curtain.
---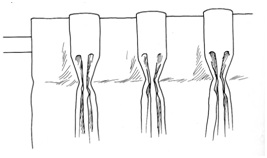 Goblet pleats are made like pinch pleats, but are not creased.
---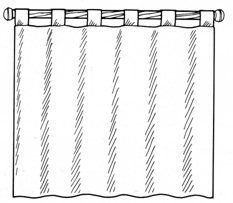 Tab top is a less formal option to heading your curtains.
---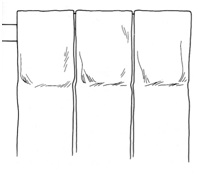 Box pleats give curtains a smoother, more tailored look.